Josh Williamson is an Australian Baptist missionary, pastoring a small church in Newquay, Cornwall. He is also the subject of front-page news in his adopted town after a row erupted between him and local LGBT activists. As a result a local Labour councillor wants him deported back to Australia.
Williamson has been warned by police to keep his views in a "safe environment" after the row escalated on social media with suggestions or threats to burn down his church, hold sexual orgies there, and community boycotts. Devon and Cornwall police have told him he could be breaking the law if he offends the local LGBT community, according to Christian Concern,  a UK Christian lobby group.
The dispute began when Williamson responded to a local news service report that a Cornwall pride event, Rainbow Fest, had been cancelled with a comment "wonderful news!" on the "Cornwall Live" facebook page.
"Asked by an online user why the news was wonderful, he responded saying 'because I don't think sin should be celebrated.' Answering further questions on his views he quoted from the book of John, James, and 1 Corinthians 6:9-11," Christian Concern reported.
Williamson was quoted by Cornwall Live as saying "there is no such thing as a gay Christian". He tells Eternity that "This quote has been taken out of context. My comment was in reply to a question about practicing homosexuals who are engaging in same-sex relations. In reply to this I quoted 1 Corinthians 6:9-11 to address the question, with an emphasis being placed upon Paul's words, 'as were some of you.' The response to this statement – that a homosexual lifestyle is something that shouldn't be embraced – indicates that the biblical teaching of sexuality is not going to be tolerated."
Eternity asked Williamson whether the police acted reasonably in the row with the LGBT group – and whether they took the abuse Williamson received seriously.  "Yes and no. The first time we called the Police was when there was a threat of protest at the church; while we support the right of peaceful protest, we were concerned that a number of people were making threats. The Police responded to our call in a professional manner.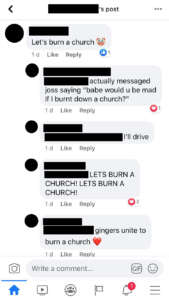 "The second time we had to call the Police was when there were threats of physical harm towards me, the threats of sexual orgies at the chapel (which would have been in front of children), and also the call to burn the church down. In this second case the Police I spoke to outside of Newquay (in the call centres) acted in a way that reassured me, however, local police acted in a manner that is greatly concerning. Our complaints were basically dismissed, and I feel that we were not taken seriously. This I believe may be due to the fact that Devon and Cornwall Police are key sponsors of Cornwall Pride (which is based in Newquay), so I am concerned that there may have been a conflict of interest on behalf of local Police."
The police stated that they were working with both sides to pacify the situation according to Christian Concern's summary of the case.
Josh Williamson, 34, married to Louise, with three children, comes from Brisbane and grew up in a Christian family. "At around the age of 17, I heard a preacher explain the gospel and as he did so a deep sense of conviction of sin came upon me. I knew I had rebelled against God, but then I heard of Jesus and His love. It was at that point I repented and trusted in Christ." He trained for the ministry at  Queensland Baptists' Malyon College and London Reformed Baptist Seminary. In 2019 he was sent by Samford Baptist in north west Brisbane  to pastor the Newquay church.
In a official statement, Cornwall Pride – the organisers of the cancelled event – were critical of Williamson's comments: "We all have to be open, to different opinions and views from many groups and many people. However when opinions and comments are as negative as the ones shared, they become both harmful and damaging to our community."
They thanked some progressive churches for supporting them, but they distanced themselves from some of the wilder responses Williamson received: "We will not, and do not condone any behaviour that is negative or harmful towards any protected characteristic… We have not supported any other actions or comments other than this statement and those of the trustees and directors of Cornwall Pride CIC."
Andrea Williams, chief executive of the Christian Legal Centre, which is supporting Williamson, said: "It's becoming worryingly common in the UK to see threats and calls for violence against Christians for voicing their simple opposition to LGBT Pride. Police forces should show Christians they take this seriously by protecting their free speech against mob threats rather than by seeking to keep Christians quiet."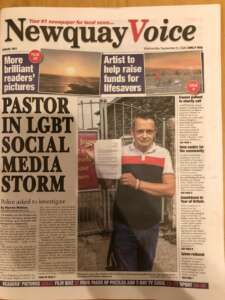 Newquay Town Councillor Stephen Hick (pictured on the front page of the local paper) has written to Home Secretary Priti Patel asking her to consider deporting Williamson, according to a report by Deadline News. "I write to you today and ask that you investigate and consider removing a foreign hate preacher from the United Kingdom," Hick's letter says.
"I understand that you have the power to do this if you believe their presence in the United Kingdom is 'not conducive to the public good', I believe you should pay careful consideration to the misconduct of this preacher in the UK and whether he meets the criteria for removal."
Hick is also reported in the local paper as calling for a community boycott of the Newquay Baptist Church.
Williams on tells Eternity "The church is coping well; although threats are concerning. We continue to work at ensuring our congregation is safe, while at the same time proclaiming Jesus by calling on all people to come and trust in him."
Email This Story
Why not send this to a friend?