World
plastic pollution
How rubbish is killing the world's poor
TEAR Aus and David Attenborough say multinationals must take responsibility
You created the problem, it's your responsibility to fix it.
That's essentially the message Sir David Attenborough and others have for multinational companies including Unilever, Coca-Cola, Nestlé and PepsiCo, following the findings of a new report by Tearfund UK, TEAR Australia's sister agency.
We need international action to support the communities and governments most acutely affected by this crisis." – David Attenborough
Attenborough is a supporter of the No Time to Waste report into our planet's pollution problems.
Fuel your faith every Friday with our weekly newsletter
"Humankind's ability to produce this material on an industrial scale far outstrips our ability to manage it, and as a consequence plastic is choking our rivers and seas," says respected documentarian Attenborough.
"This is particularly true in poorer countries, where the ability to manage waste is inevitably overwhelmed by the sheer quantity of plastic being used. In turn, this is causing serious illness and even death for countless people and wild species, as this report outlines."
"We need leadership from those who are responsible for introducing plastic to countries where it cannot be adequately managed. We need international action to support the communities and governments most acutely affected by this crisis."
No Time to Waste: Tackling the plastic pollution crisis before it's too late indicates that disposable plastic packaging is responsible for widespread loss of life, health and livelihood among the world's poor. Shocking statistics include how, every 30 seconds, the equivalent of 30 double-decker busloads of plastic waste are burned or dumped in developing countries.
According to the report, one person dies every 30 seconds from diseases related to mismanaged waste. Each year, total loss of life is between 400,000 and one million people.
When it comes to connecting the problem of rubbish with the "serious illness and even death for countless people and wild species" which Attenborough speaks of, the crucial issue is waste collection. Or more specifically, the lack of waste collection in poor countries.
Waste Collection
"Two billion people lack access to properly regulated solid waste collection – that's one in four people globally – while a further one billion people don't have controlled waste disposal [their waste may be collected but it is then discarded somewhere unsafe]," the report outlines. "Without rubbish collection or proper disposal, people have no option but to burn or dump their waste. In the poorest countries, about 93 per cent of waste is burned or discarded in roads, open land, or waterways."
Increasingly, a massive proportion of this waste is plastics.
Plastic Pollution
While it should be apparent why living near uncollected rubbish is unpleasant, it is less so why it is actually dangerous. The report lists the following ways mismanaged waste, including plastics, harms people's health in developing countries.
It blocks waterways and drains, which causes flooding, resulting in waterborne diseases and death by drowning.
It creates a breeding ground for disease-carrying flies, mosquitos and vermin. Mosquitoes spread malaria and dengue. Flies carry and transmit a number of diseases such as typhoid fever and tuberculosis, while rats spread rabies and plague.
It doubles the incidence of diarrhoeal disease for people living among mismanaged waste – the second leading cause of death in children under five years old.
It is openly burnt, releasing pollutants that increase the risk of diseases such as heart disease and cancer, respiratory ailments, skin and eye diseases, nausea and headaches, and damage to the reproductive and nervous systems. Outdoor air pollution is responsible for 3.7 million deaths a year. Recent estimates suggest open burning could be responsible for as much as a fifth of this death toll.
It poses direct risks to life through large informal dumpsites. In 2017, landslides at waste dumps accounted for more than 150 known deaths.
It pollutes water and soil and enters the food chain. Much of the plastic in water and on land disintegrates into tiny pieces. Microplastic is entering the food chain and being ingested by humans. The health impacts of this are, as yet, unknown.
Livelihoods harmed
The report also says that plastic pollution damages livelihoods and curtails growth in developing countries.
Plastic pollution has dire consequences for farmers and the wider agricultural industry. Studies indicate that up to a third of cattle and half of the goat population in developing countries have consumed significant amounts of plastic. This can lead to death by starvation, as plastic does not decompose in their digestive tracts.
Fishing livelihoods are also adversely affected – with an estimated 820 million people directly and indirectly relying on fisheries as a source of income to support food security. And communities that depend on coral reef-related tourism are particularly vulnerable to plastic pollution, with at least 275 million people depend directly on reefs for livelihoods and sustenance according to UNEP.
Multinationals need to take responsibility
The report argues that "multinational consumer goods companies carry most responsibility for the plastic waste crisis, driving the production of single-use plastic packaging and doing little to collect and sustainably manage the waste they have created".
A small number of multinational companies (MNCs) are at the helm, according to the report. Coca-Cola, for example, sells more drinks in India than it sells in any country in Europe. Waste and brand audits such as Tearfund and WasteAid's Survey state that products made by multinationals like Coca-Cola make up a high proportion of plastic pollution in impoverished regions.
"Over the decades, the big MNCs have moved away from reusable and recyclable packaging towards a throw-away model. These products are pushed into countries where there is little or no capacity to collect or manage waste. As a result, large quantities of plastic end up blocking drains, producing toxic fumes in backyard bonfires or choking the environment."
"Some elements of industry have also resisted legislative efforts to hold them responsible for the waste they create," says the report.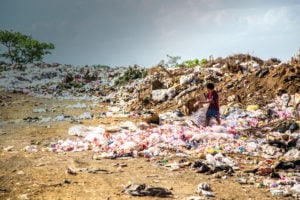 Yet in recent years, some MNCs have moved to acknowledge there is a problem, particularly as changing public attitudes towards plastic pollution have emboldened governments to legislate.
MNCs have made new voluntary commitments to address single-use plastic pollution, such as the New Plastics Economy Global Commitment launched in October 2018. But Tearfund UK and their partners say it's not enough.
"Some of these initiatives are a step forward and may represent a willingness for companies to use their global influence for good. However, the commitments are relatively vague and weak and tend to focus on recycling rather than reducing the usage of single-use plastics. And while some companies have disclosed their global annual plastic footprint in volumes as part of the Global Commitment, we urgently need to see a country by country disclosure on the number of units sold, so that we can see the scale of the problem and the progress being made in developing countries."
"Far stronger action is needed by MNCs to break the link between plastics and poverty and stem the flood of plastic filling the oceans.
"MNCs cannot and should not wait for governments to legislate: they have the capacity, resources and systems to take action now."
Local action
In partnership with Tearfund UK, TEAR Australia has launched 'The Rubbish Campaign' – along with other Christian organisations and the international wildlife conservation group Fauna and Flora International (where Attenborough is the Vice President).
This is a global campaign being run in 13 countries including Brazil, Zambia and India.
One of TEAR's aim is to make Australians aware of the issues raised by the No Time to Waste report. But for TEAR, a Christian organisation, the problem of rubbish should be of specific concern to Christians.
"God has blessed us with a beautiful world to look after and treasure. Right now, our world has a rubbish problem – and it's severely affecting the health and wellbeing of people living in poverty,"  said TEAR CEO Matthew Maury.
"With this encouragement, let's act together to care for God's creation and show love for our global neighbours.
"We can't beat poverty and injustice unless we tackle waste."
As part of the campaign, TEAR's Artist Ambassador Joel McKerrow has created 'Waste' – a spoken word poem calling for action on plastic pollution (see video below).
Filmed on a former rubbish tip in the beautiful Melbourne suburb of Kangaroo Ground, this film is a creative encouragement to act together to care for God's creation and show love for our global neighbours. TEAR Australia is also urging people to sign a petition calling on multinationals to take action.