World
politics
prayer
"In the name of Christ" What the rioters prayed in the Capitol
"Thank you for filling this chamber with patriots."
When New Yorker journalist Luke Mogelson, a veteran war correspondent, followed the rioters into the Senate chamber in the US Capitol, he captured scenes that turned into a prayer meeting. He captured the prayers on video – and Eternity has transcribed it from screen shots.
This settles the question of whether there were Christians invading the Capitol, and makes it clear they thought they were doing God's will. Reading these prayers will upset many readers. Please proceed with caution.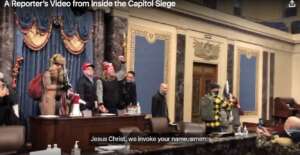 Jesus Christ we invoke your name, Amen.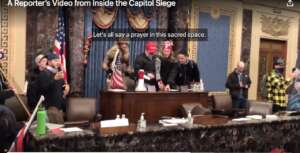 Let's all say a prayer in this sacred space.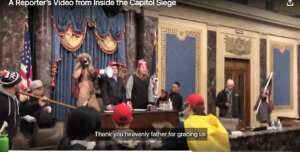 Thank you heavenly Father for gracing us with the opportunity.
Thanks to our heavenly Father … Amen …
For this opportunity to stand up for our God-given unalienable rights.
Thank you heavenly Father for being the inspiration needed to these police officers to allow us unto the building, to allow us to exercise our rights.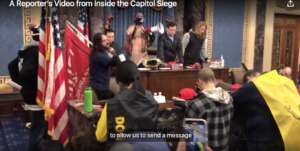 To allow us to send a message to all the tyrants, the communists, and the globalists, that this is our nation not theirs.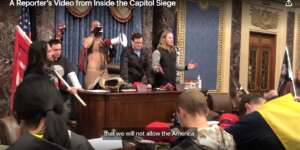 That we will not allow the America, the American way of the United States of America, to go down.
Thank you divine, omniscient, omnipotent, and omnipresent creator God, for filling this chamber with your white love and light, with your white light of harmony.
Thank you for filling this chamber with patriots.
That love you. Yes, Lord.
And that love Christ.
Thank you divine, omniscient, omnipotent and omnipresent God for blessing each and everyone of us here and now. Amen.
Thank you divine creator God for surrounding [indistinct] with the divine omnipresent white light of love and protection peace and harmony.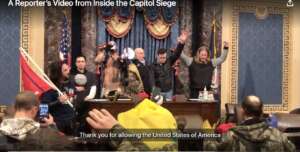 Thank you for allowing the United States of America to be reborn.
Thank you for allowing us to get rid of the communists, the globalists and the traitors within our government.
We love you and we thank you.
In Christ's holy name we pray.
Amen.
What sense can we make of these prayers?
The people praying these prayers from the dais at the front of the US Senate building are clearly claiming to be Christian, and praying in the name of Christ.
They believe they are doing God's will in invading the capitol, and in thanking God for "getting rid of" the people they describe as "communists, globalists and traitors".
They appear to imagine that on January 6, 2021, they achieved some sort of victory.
In reality, they achieved nothing – or perhaps history will show that at this moment the Trump Presidency was tarred with violence and insurrection, splitting the Republican party, and benefiting the people they oppose.
They invoke the "white light" – in the Old Testament, the "Skekinah" that shone signalling God's presence and blessing. That was presumptuous to say the least.
They take the new birth and salvation in Jesus Christ, and apply it as a metaphor to the United States.
They believe that God has selected their nation, and their movement to bear his name.
WE need to pray for them that they will amend their ways – and also those bruised by their presumption – because these insurrectionist actions are likely to make it harder for people to come to Christ.
The New Yorker video can be viewed here. The prayers start at about the 7:58 mark.
Email This Story
Why not send this to a friend?