In the midst of the COVID-19 pandemic, a missionary in South East Asia is finding a precious opportunity to work on an oral Bible translation, as well as scripture engagement, for people who find it difficult to understand the national language.
Usually, Lee* is regularly interrupted in her Bible translation work because the village she works with is visited by pastors from the cities, who seek to raise mission awareness, provide basic medical assistance, training and exposure to the people's needs.
"It is good to rest in [God's] will." – Lee
While such visits are beneficial for promoting Bible translation among local churches and caring for village communities, they interrupt the progress of much of the skilled work Lee does.
"We began oral Bible storytelling with the view of creating oral Bible translations for the people and eventually an accompanying written translation," says Lee. "But it has been challenging to even put together a translation team because the village is often visited by groups from the city."
One of the villages Lee works in is welcoming, and relatively accessible for large groups. "It only takes one hour to travel there by car, followed by half an hour by boat, and teams visit on an almost weekly basis," says Lee.
"Some of the visitors also request to visit other villages and village leader Ana* has to organise the boat, the boatman and its fuel as well as contacting the other villages."
The time and energy involved in educating the visiting teams about culture and language make it difficult to focus on Bible translation. But thanks to this time of social isolation, Lee is focusing her whole attention on translation work.
"While we are physically isolated, [the] work continues," she says. "In fact, it's precisely because we have restricted movements that the village is able to do some of this checking work rather than being occupied by teams visiting from the cities.
"It also gives the team more time to check in with village leaders and encourage them to give their anxieties over to the God in whom they are learning to trust.
"In the midst of uncertainty, we wait for our certain and sovereign Lord. It is good to rest in his will."
The villagers now feel more confident in how to care for themselves and their families.
Lee's life was transformed when she studied the Bible in 1984. She experienced God's word and it brought her to a personal relationship with Jesus. This motivated Lee to join a Bible translation team with indigenous people groups in South East Asia, using her translation skills to bring the hope and comfort of God's words to remote villages.
Lee shares: "During this period of lockdown, we have been able to put together an animated video in the J* language on the story of Jesus calming the storm – 'Yesus ouk begiyu alouk ombak sengor'."
"It's in a format that can be shared easily by phone and is most appropriate for a time such as this."
The story of Jesus calming the storm has been a source of comfort for many in the villages, including Lee. "As I reflect on the current situation, I am reassured that God is right there with me as he was through other storms of my life," she says.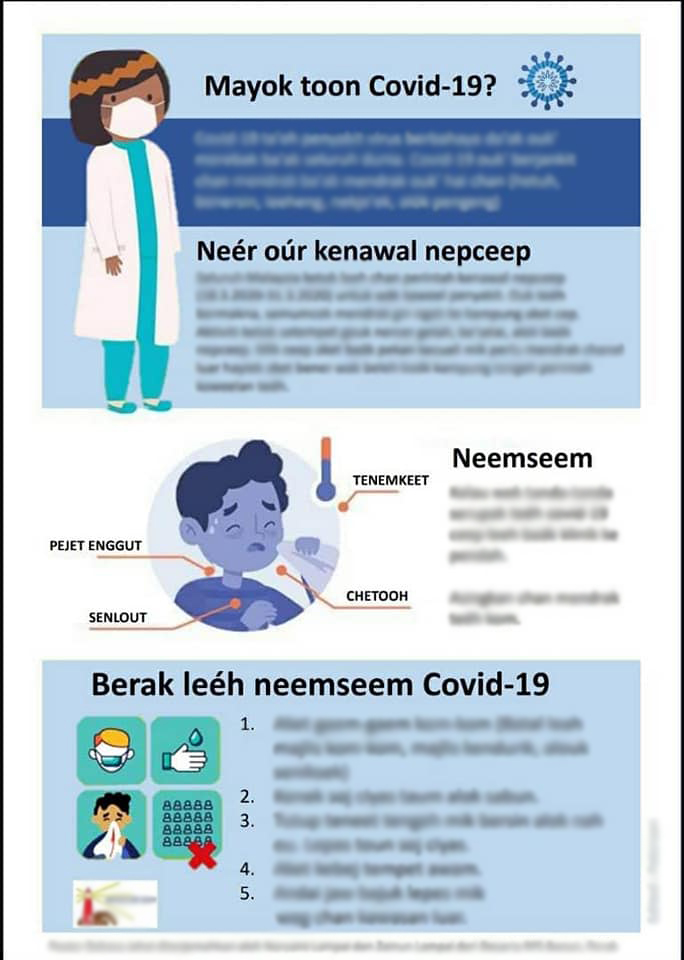 Lee also has been able to provide practical assistance amid the current storm. Important health information to protect against the spread of coronavirus had been circulated in the national language – but one of the local men on Lee's team lamented that there was nothing available in his native J* language.
Lee and mother tongue speakers in the village got to work on a translation.
Village leader Ana wrote down the translation. It was photographed and sent back to Lee via WhatsApp to be typed and formatted with pictures. Lee then checked it and distributed it via WhatsApp and Facebook. Thanks to this valuable information, the villagers now feel more confident in how to care for themselves and their families.
Lee is still facing challenges in her translation work. Internet access is unreliable as the villages are quite remote. Yet she is confident that God is using this unique opportunity to strengthen his people and extend his work in the world.
*Names changed for security reasons.
Pray
Some prayer points to help
Pray that the important work of translating scripture into people's heart languages continues around the world, even during the COVID-19 crisis.