World
Bible News
ukraine
Ukrainian faith leaders gather to pray at President Zelenskyy's request
Update from Christians on the ground in Ukraine
An update from Bible Society Ukraine.
3 March 2022
As we mark 1 week since the war started and mourn over 2000 deaths of innocent people, we are thankful that the Lord gives us another day.
Yesterday, bombardments were especially heavy both in Kharkiv and Kyiv and in many other places. Our team in Kharkiv is safe, they've been staying in shelters all day under constant shelling. Thankfully, last night was a bit quieter and they were able to sleep for a few hours. It is now the 3rd day that they stay without power.
Here's how you can stand with Ukraine
Mercy dash to deliver essentials to Ukraine as the chaos of war hits home
In Kherson, the situation remains very complicated as the city is still surrounded by the enemy forces that shell residential areas regularly. Everyone is staying at their homes and shelters. The situation with provisions in both cities is very complicated – please pray for the safe corridor to be established very soon so that inhabitants could receive necessary food and medicines.
We are thankful that the Lord gives us another day.
Yet, our colleagues in the Western Branch in Lviv are actively engaged, together with churches and volunteers, to provide spiritual support along with physical aid to thousands of people arriving from the rest of the country: adults and children are very thankful for care for local churches show and gladly received Scriptures.
In this video (below) Anatoliy sends greetings and tells a bit about the current situation in Kyiv.
Yesterday's prayer in the St Sophia's Cathedral was a very special event (pictured).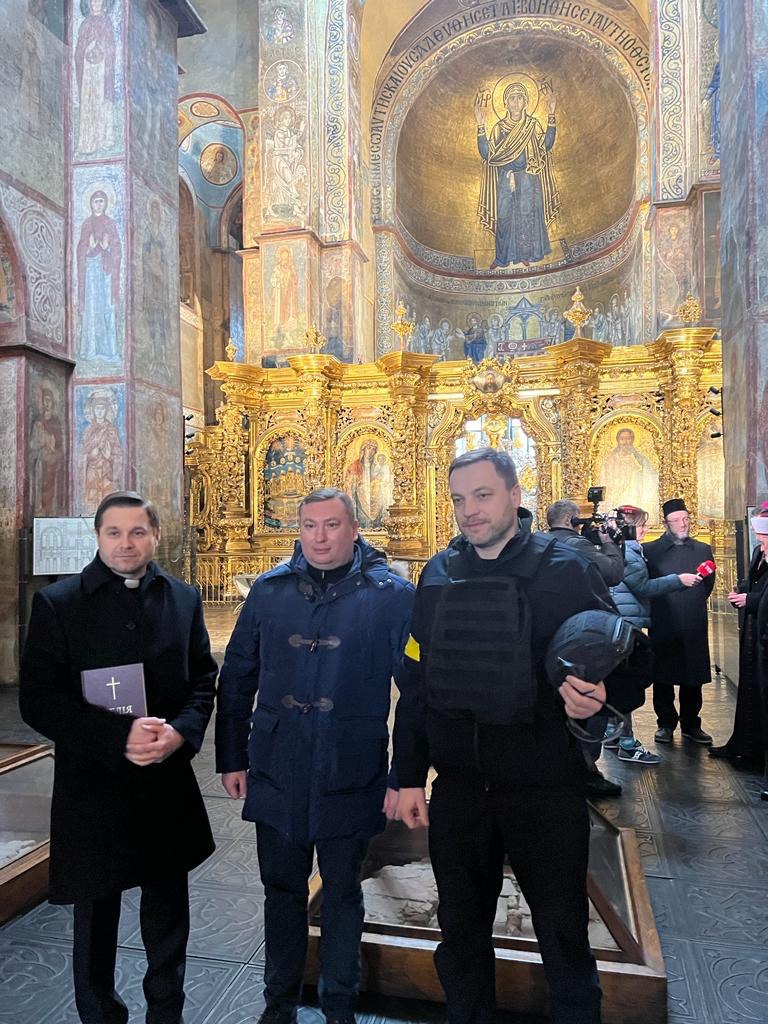 Anatoliy also shared at the service. Leaders of almost all churches and other religious organizations got together there. And, of numerous interfaith events he [Anatoliy] previously attended, this was the only one where everyone was praying in their own words, without formalities and reading from paper notes.
There was a mixture of various feelings was sensed as participants were conscious the Cathedral could be destroyed anytime, they were fearful for their nation and flocks, yet they were thankful for God's grace and presence over the past week. The Minister of Internal Affairs also attended the event (pictured with Anatoliy.)
In the video below, you can see how many young people are organized to sort and pack humanitarian aid for people in bomb shelters, orphanages and elderly people. Our Kyiv team usually takes these batches and delivers to various places across the city, often under threat of shelling. One of the places, shown in this video, is a place where many elderly people live and need help.
Please continue praying for Ukraine and, where possible, raise the voice for making our country a no-fly zone – so many innocent people are dying every day because of these cruel and inhumane air attacks (which usually happen in the night hours).
Email This Story
Why not send this to a friend?