The Bible on film, at auction, at Advent & demanded in persecution: the news you might have missed

The trailer for the film based on the TV show which was based on the Book was released this week. The Son of God is a stand-alone film version of the life of Jesus which emerges from the The Bible Series TV show that screened in the US and Australia earlier this year. It will contain scenes from the TV series, as well as unseen footage, and will be released in US cinemas in February 2014. You can watch the trailer below. Of course, we still thoroughly recommend the book that it's based on.
Speaking of that book, or rather, one of the books in that book: a book of Psalms went to auction this week and raised $15 million. A rare translation, the Bay Psalm Book retains historical significance as the first English language book printed in the USA by the Puritans. The book, one of eleven existing copies, was sold by the Old South church to fund its church building.
Still in Bible news, The United Bible Societies reported that countries with a high level of Bible persecution experienced another side-effect: an increase in Bible distribution. This includes hotspots like Syria, Iraq, Egypt, and Nigeria, as you can see in the infographic below.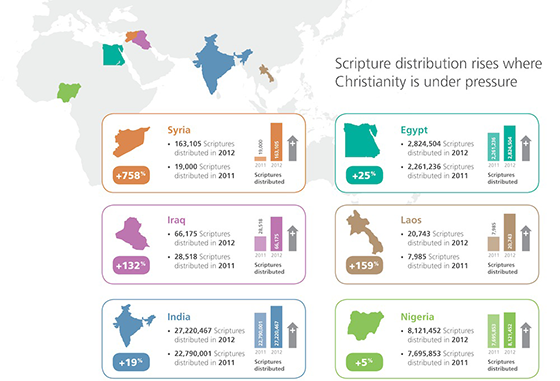 Lastly, it's impossible to avoid the sightings of tinsel and talk of Christmas presents, but for a thoughtful lead-up to Christmas, you could check out the Advent Project. Written by Sydneysiders Alison and Matthew Moffitt, it might help you slow down and await the coming of the Lord this Christmas.
More