"I'm excited. I'm excited but I'm also… scared, I think would be the right word."
The words of a man whose face and faith will be on display this Wednesday night, after he won the opportunity to sit alongside the presenters of Channel Ten's nightly current affairs show, The Project.
David Ould is an Anglican Minister serving in Macquarie Fields, a struggling suburb on the outskirts of Sydney. Just over a week ago on the spur of the moment, David applied to co-host The Project, as part of its 'Your Chair' promotion. Not expecting to hear back, he was shocked and delighted when a producer rang him last Tuesday to let him know he'd been shortlisted, and shocked again when they confirmed he'd be co-hosting The Project this Wednesday night.
David, who is also the Chairman of Break the Cycle, a local charity established in conjunction with his church Glenquarie Anglican, says he's done a lot of thinking about how to approach the opportunity.
"I think because of the nature of the show—it's quite punchy, it's not the ABC—there's going to be no massive in-depth discussion and it means I'm going to have to be very focussed and on target.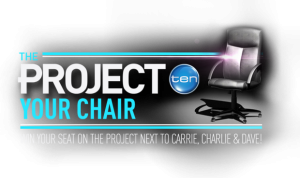 "The point of what I want to do, and why I applied in the first place, is to say: here's what a credible Christian voice is in the media. This is what motivates us. This is why we take the positions that we take. It's not for the reasons that you ascribe to us, it's actually for other reasons, because of the great love of Jesus shown to us. So it'd be great if I could have a chance to talk about what love is."
David says the application form included five pages of questions, on topics like gay marriage, climate change, his most embarrassing experience and how Australia should treat asylum seekers, as well the request for a home made audition video, which you can view below.
Last Friday was David's first taste of TV, when he took part in the 'Friday Round-up' on The Project, which previewed his appearance this week. He said it was a surreal experience being surrounded by well-known faces.
"Just thinking about doing the Friday Round-up was terrifying… It was quite bizarre sitting in this make-up room with Jonesy and Amanda [from WSFM, a Sydney radio station], HG Nelson who was about to do a slot, Sandra Sully having her hair touched up and two Channel 10 news guys who I recognised but don't know the names of. But it was very, very nice and they were genuinely excited to see me there, genuinely pleased for me."
David says he's been meditating on a particular Bible verse in the lead-up to his appearance on The Project: "Be wise in the way you act toward outsiders; make the most of every opportunity. Let your conversation be always full of grace, seasoned with salt, so that you may know how to answer everyone." Colossians 4:5-6.
"If I get a chance to tell people what the gospel is, I'll be ecstatic. And if I have an opportunity to have a bit of fun as well, that'll be ok with me."
David Ould will be appearing on The Project this Wednesday, August 21, at 6:30PM on Channel 10.
Email This Story
Why not send this to a friend?