For the last few years, Fairfax media seems to have been running a relentless campaign against Access Ministries, the Christian education provider in schools across Victoria, and the last month is no exception. In The Age there have been stories about a controversial Biblezine, a series of articles about principals refusing to run SRI (Special Religious Instruction) classes in their schools, and in Sydney, an opinion piece with the headline 'Bad religious instruction can put small feet on path to hell'.
At the same time, Professor Marion Maddox has released her new book "Taking God to School" and Scripture Union stands ready to defend chaplaincy in schools in the High Court in May. Religion in schools remains a highly contentious issue.
Last week, the Wheeler Centre in Melbourne ran a debate on the topic: 'Faith based religious education has no place in public schools'. On the affirmative side were Professor Maddox, author David Vann, and Anglican layperson, Professor Peter Sherlock. Against the proposition were Centre For Public Christianity's Dr Justine Toh, columnist from The Australian, Nick Cater and World Vision CEO Tim Costello.
Those against faith-based education in schools argued it should be replaced by lessons on different religions and philosophies, and taught by professionals, not volunteers.
"Our children go to school with, and will work, travel and study alongside, people of many religions and worldviews," said Professor Maddox. "They deserve to learn about their own and other religious and philosophical traditions, with the same rigour they learn about maths, history, literature, geography or anything else.
"When we send our kids to school to learn maths, we expect them to get a fully-rounded curriculum—not just somebody's favourite strand of fractions."
On the other side, it was argued comparative religion classes don't allow for the experience of a committed believer, an "insider of the faith" as Dr Toh described it, to be explored.
"Insisting that the best education is impartial gives the impression that it's good for students to understand Jane Eyre, for example, but we've got a problem if they start to love it. This isn't to say that there isn't a place for more objective, impartial perspectives on religion but to stop there feels inadequate.
"Some space should also be devoted to an account from someone 'native' to the faith, if you like, which is why I think comparative religion shouldn't completely replace the faith-based alternative," argued Dr Toh.
Reflecting on how the debate went, Professor Maddox said she felt the debate was strongly shaped by the Victorian context (where the parent-run group Fairness in Religions in Schools actively campaigns against Access Ministries), although everyone present remained respectful.
"I enjoyed the discussion from the floor, which was entirely good-humoured and thoughtful." She said, from her perspective, both sides expressed some concern with the way classes were currently conducted.
"I thought a striking feature was the general consensus on both sides that SRI as currently practiced has problems," she said, pointing to a comment by Tim Costello (whose address was unable to be procured by Eternity).
Polls of the audience taken on the night indicated a 6% increase in those siding against faith-based education in public schools; those for faith-based education increased by 2% according to the polls (the number of those who were undecided decreased):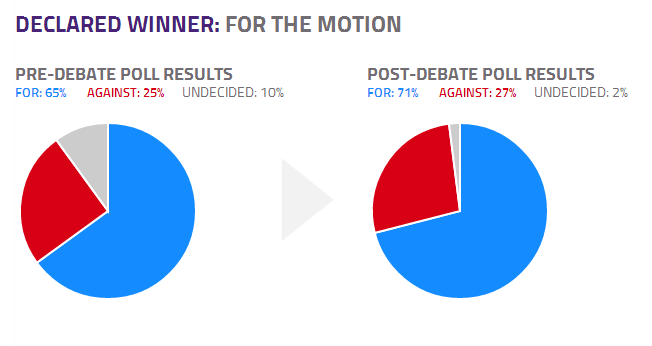 The debate will be available as a webcast on the Wheeler Centre website in coming weeks and broadcast on the ABC's Big Ideas.