Australia
church
politics
Half of US pastors report conspiracy theories circulate in their churches
Makes evangelism harder
"I frequently hear members of my congregation repeating conspiracy theories about things they have heard about why something is happening in our country," is agreed to by 49 per cent of  US Protestant pastors.
This result from a survey of 1007 senior or sole pastors of Protestant churches – conducted by LifeWay research in September and October – shows conspiracy theories are widespread across American churches.
They are not confined to a narrow band of fringe dwellers.
Affiliated with the Southern Baptist Conference, Lifeway Research controlled for church size in the randomised survey.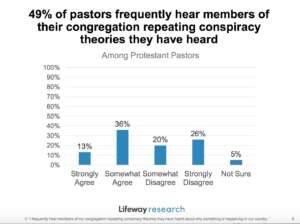 "Christian churches resolve to be places focused on the truth," said Scott McConnell, executive director of Lifeway Research. "Yet, half of pastors hear the spread of assumptions about plots often. This is a startling disconnect."
Lifeway also reports that:
White pastors (50 per cent) are more likely to 'Agree' than African American pastors (36 per cent).
Pastors age 65+ are the most likely to 'Disagree' (59 per cent) and least likely to 'Agree' (34 per cent).
Male pastors are more likely to 'Agree' than females (50 per cent v. 35 per cent)
Pastors of churches with attendance of 250+ are the most likely to 'Agree' (61 per cent)
Some US Christian leaders continue to support conspiracy theories around the election loss by President Trump. Here is Eric Metaxas, linking the Capitol riot to a certain event in Berlin:
If this isn't our "Reichstag Fire" I don't know what is. For details on how a govt can use an event to consolidate power, see my BONHOEFFER book… https://t.co/IEJDAQkzPx

— Eric Metaxas (@ericmetaxas) January 27, 2021
Or maybe it was China that "stole" the election:
WATCH!!! I spoke w/@MyPillowUSA Founder & CEO @realMikeLindell about his meeting w/Pres Trump & how the irrefutable evidence of China's foreign interference subverting the will of #WethePeople Constitutionally requires the Pres to take action IMMEDIATELY. https://t.co/7vB9G8vHvj

— Eric Metaxas (@ericmetaxas) January 18, 2021
The mixing of conspiracy theories with gospel proclamation, or with other causes which Christians will support – such as opposing abortion of babies with Down Syndrome, that Metaxas has also tweeted about recently – makes it harder for evangelism.
Lifeway quotes a Christian apologist, Mary Jo Sharp,  who argues the widespread sharing of conspiracy theories within churches is a worrisome trend. It can reinforce negative stereotypes about Christians and hamper efforts to share the gospel.
"Irresponsibility with information unravels the impact of a Christian's witness to those in their community, and, with social media, to the broader world," she said. "The non-Christian may begin to believe or become further ingrained in the culturally popular belief that Christians are anti-intellectual, including anti-science."
A local example of conspiracy theories affecting Christians occurred this week with the sacking of a Liberal party candidate in WA, Andrea Tokaji, after a post on a conservative Christian website was revealed.
Tokaji had claimed a link between  COVID-19 and 5G: "There is a current global roll-out of 5G towers and technology. So, based on historical, scientific and expert evidence, we have to ask: is there a correlation between the current roll-out of 5G technology and COVID-19?"
Seeking after conspiracy theories repeats the ancient trap of "gnosticism", a desire for special knowledge that makes one feel superior to others. The message from the early church is clear: resist this temptation.