Hillsong is taking over Australia according to a slice of lefty end of the twitterverse. Thirteen out of the twenty two cabinet members are from Hillsong is one of the persistent memes – and we will examine the list.
There is no shortage of conspiracy theories about Hillsong Church and the Liberal party.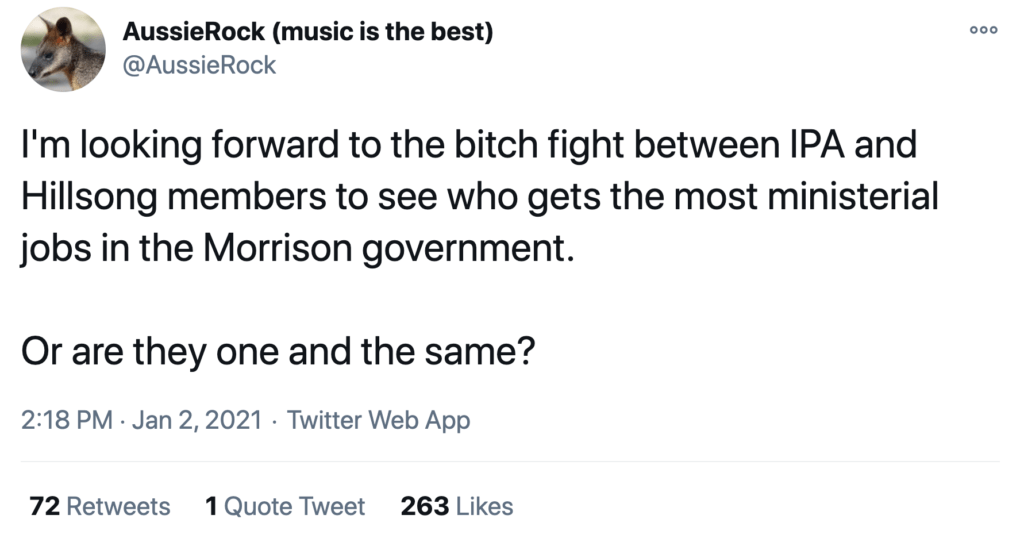 Stirring up those responses is this claim.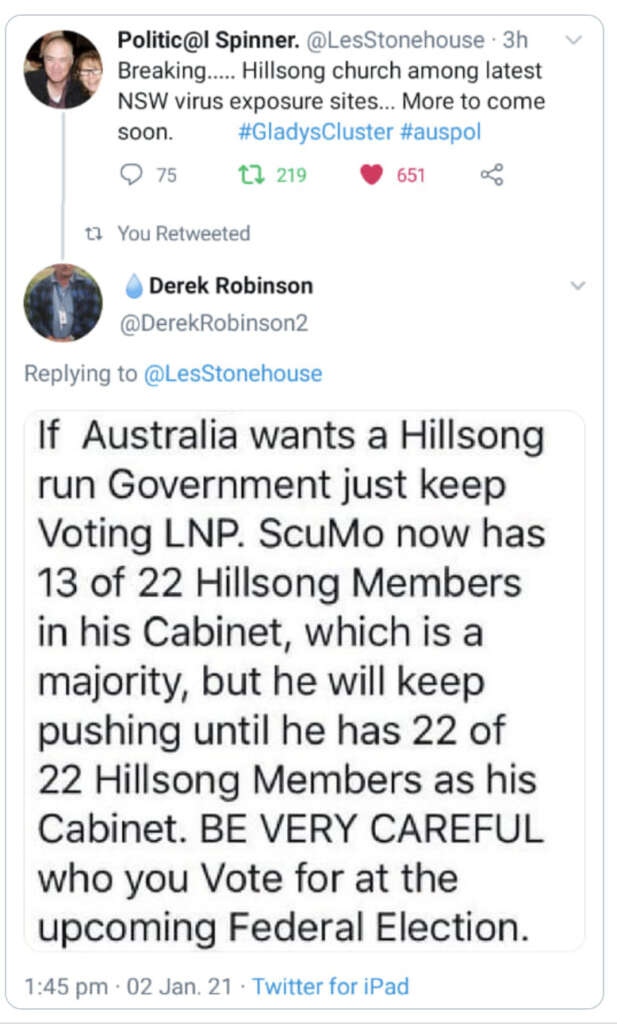 It is likely that this rumour started with this report.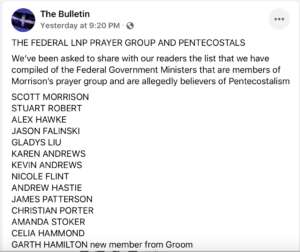 Eternity hopes that the Prime Minister has a prayer group, but we have no knowledge of who is in it, whether MPs or not.
Let's go through this list and examine whether these MP's attend Hillsong or are Pentecostals.
Prime Minister Scott Morrison attends Horizon Church, in Sutherland NSW. It is a Pentecostal church, part of the Australian Christian Churches network. As a young man Morrison attended a number of churches, including the Christian Life Centre in Sydney which became Hillsong.
Stuart Robert, Minister for Government Services is a Pentecostal. He attends Metro Church on the Gold Coast where his wife Chantelle has served as a minister. Metro is a member of the Australian Christian Churches denomination.
Alex Hawke is Minister for Immigration, Citizenship, Migrant Services and Multicultural Affairs. While some media claims he attends Hillsong, Hillsong insiders tell Eternity he has attended major events as a guest.
Jason Falinski is Chair of Standing Committee on Tax and Revenue – and is not in the cabinet. He is member for Mackellar in northern Sydney and describes himself as a practising Catholic.
Gladys Liu represents the electorate Chisholm in Victoria and is a backbencher. She is a member of a Chinese evangelical church.
Karen Andrews is Minister for Industry, Science and Technology. Brought up as a Catholic but current religious unknown. (Please help Eternity to update this article.)
Kevin Andrews, is a backbencher for the seat of  Menzies in Victoriais a conservative Catholic. He served as a minister in the Howard and Abbott governments.
Nicole Flint is a backbencher representing Boothby in Adelaide is a social conservative but her religious affiliation is unknown.
Andrew Hastie, Assistant Minister for Defence, grew up in the Presbyterian Church in Australia and attends Crossroads a FIEC (Fellowship of Independent Evangelical Churches) church in Canberra, and Peel Presbyterian in Mandurah in his electorate.
James Patterson Senator for Victoria, chairs several Parliamentary committees. the AFR describes him as a "Agnostic Libertarian." He is a strong supporter of  the religious discrimination bill.
Christian Porter is Attorney-General Minister for Industrial Relations, and represents the seat of Pearce in WA. His religion is listed as "Church of England". ""I'm not particularly religious but that doesn't mean I don't believe in God, which probably makes me like a lot of Australians," Mr Porter told The West Australian.
Queensland Senator Amanda Stoker, the Assistant Attorney-General, is an evangelical Christian. She attends an Anglican Church in inner city Brisbane.
Backbencher Celia Hammond is Member for Curtin, WA, and previously Vice Chancellor of the University of Notre Dame.  Judging from her University speeches she is a loyal Catholic.
Garth Hamilton represents Groom, centred on Toowoomba, Queensland. He defeated David Van gene a well known Christian Conservative at the LNP pre-selection. His religious affiliation is unknown… readers please help us to update this.
Of the "thirteen" we have no regular Hillsong attender, and two who attend other Pentecostal churches. Only seven of this list are in the ministry. Of those seven, two or three are Pentecostals.
This myth is busted. If Scott Morrison is attempting to stack the Cabinet with Hillsongers, he is doing a poor job.
As previous reported in Eternity, there are groups of Christians recruiting fellow believers into the Liberal Party. on the other hand there are branches of the party that will resist their membership. A majority of church goers favour the coalition, and this is expected to be reflected to some extent in party membership.
Email This Story
Why not send this to a friend?