Australia
Replacing Fred Nile came as a surprise says Lyle Shelton
"Yes, they approached me and yes, it was a surprise," Lyle Shelton tells Eternity about the announcement that Shelton will replace Fred Nile in the NSW Parliament. Nile, who has represented the Christian Democrat Party in parliament for almost 40 years, with a short break, is stepping down.
"I feel honoured to have been asked and look forward to seeking the endorsement of the party's state council," Shelton says.
Of Nile, Shelton says, "Fred has been courageous and faithful in the face of vile and irrational opposition – Australia's first target of cancel culture. He pioneered Christian political activism in this country and history will judge him to have been right on so many issues."
Asked to nominate key issues for a Christian politician in state politics, Shelton responds: "Christian politicians should campaign first and foremost for vulnerable people. The poor and disadvantaged, human rights for the unborn and support for their mothers. There is an urgent need to protect children from harmful gender fluid indoctrination which is leading to chemical castration and other irreversible surgical interventions on minors. Freedom of speech and freedom of religion also require urgent advocacy."
The NSW parliament has been actively discussing a Religious Discrimination Bill, and Shelton will be a keen supporter.
"Freedom of religion goes to freedom of conscience and that is something vital for all citizens, whether religious or not," says Shelton.
"Churches and Christian schools must be free to retain their ethos and to publicly advocate Christian virtues without the threat of legal action from activists seeking to cancel views they don't like. I note the joint select committee report recommends a government bill be introduced into the parliament to achieve this."
Shelton takes his seat in parliament in November, which allows Nile to reach his milestone of 40 years of service. That will be just over a year before a state election, due in March 2023.
The Christian Democrat Party lost a seat in the upper house at the last election in 2019 when Nile's parliamentary partner Paul Green fell short. Party insiders have told Eternity that a key reason for the loss was a decision by Green to put party resources into media campaigns rather than resource local electorate campaigns in the lower house.
Since then the Party has been affected by splits at the board level, with key leaders leaving or being dismissed from the board, and disruption and walk-outs at party meetings.
Shelton will be aware that the party needs to reach out to its support base. The vote has been eroding over the last few elections, but the upper house in NSW with 21 members (half the house) elected each time from the whole state acting as a single electorate, advantages smaller parties. "Typically 4.55% of the total valid primary votes being sufficient for a candidate to gain a seat," according to the parliament website.
Eternity asked Shelton: "I guess your message will be 'now is the time for all good people to come to the aid of the party'?"
He responded, "Yes, the party is going through a revitalisation process. There has never been a greater need for parliament to be informed by Christian principles and ethics. The CDP has parliamentary representation and we will need an influx of new members and support in order to carry that beyond the March 2023 NSW election."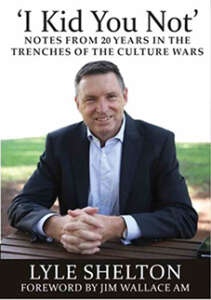 Christians in NSW can expect to hear from Shelton over the next two years as he throws himself into a campaign to be elected in his own right in 2023. His book I Kid You Not – Notes from 20 years the trenches of the culture wars will need a few extra chapters, or maybe a sequel.
Email This Story
Why not send this to a friend?