Culture
2021
Christian news: 21 weird, wonderful and unexpected things that happened in 2021
Some of these, we just didn't see coming
There was a mouse plague. (1)
Australians farmers were undoubtedly less surprised by a mouse plague breaking out in Australia, but it was certainly a shock to many of us city-dwellers.
The plague heaped hardship on rural folks who – after a couple of years of bushfires, floods and COVID – didn't need it. Nonetheless, their resilience was striking.
Church communities fractured over vaccinations (not doctrine!) (2)
Pre-COVID, if most Christians were asked to predict what issue would cause serious disagreement among Christians in coming years, most would have tipped doctrinal disagreement or social justice issues as the most likely contenders. While there is both a theological and social justice aspect to the vaccine debate, seeing Christians at war over vaccines has been the kind of strange phenomenon only a pandemic could produce.
The song 'Imagine' was performed at the Tokyo Olympics (3) – and then someone did a re-write. (4)
While John Lennon and Yoko Ono's 1971 classic Imagine is not a song traditionally associated with Japanese culture (!), The Tokyo Olympic committee enlisted a new crop of celebrities to perform a moving cover of the classic song. US artist John Legend, Australia's Keith Urban, Africa's Angélique Kidjo, Europe's Alejandro Sanz and Asia's Suginami Junior Chorus (Asia) joined together in an arrangement of the song by Oscar-winning composer Hans Zimmer.
With the opening lyric, "Imagine there's no heaven", it is no surprise that a gazillion Christians protested the benevolent power of the song – nor that one such Christian re-wrote and recorded his version.
The drama inside the CDP reached boiling point. (5)
Insiders have been telling a tale of internal friction within the Christian Democratic Party (CDP) for years now. Still, it appears the party has completely fractured this year – and possibly irrevocably. This year's CDP bullet points include a battle for the party's leadership between Fred Nile and Lyle Shelton; an administrator appointed because the board had formed the view that the association was likely to become insolvent"; and a court battle in which the judge instructed parties to stop squabbling.
Eternity's John Sandeman's most recent report Winding up the Christian Democrats, the focus of court hearing is here.
A bunch of Christians won stuff including: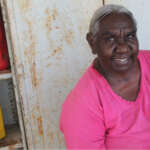 Important honours
Christians often make national awards and honours lists around Australia Day and the Queen's Birthday, as they did this year. The head of Queensland's Anglicans, Archbishop Phillip John Aspinall (6), received Australia's highest honour, the Companion (AC) of the Order of Australia: "For eminent service to the Anglican Church of Australia, to the development of ecumenical relationships and professional standards, and through commitment to social justice and welfare."
And, we especially loved this report about a Christian woman, Dr Miriam-Rose Ungunmerr Baumann  (AO) (7). She is an Aboriginal elder from Daly River (Nauiyu), near Katherine in the Northern Territory and received the 2021 Senior Australian of the Year Award.
But there were also some extra high-profile Christians in not-so-highbrow arenas this year, too.
TV show competitions
Lovable former youth pastor Justin Narayan won the nation's heart with his self-effacing humour in this year's Masterchef  (8) battle – and then took out the grand prize. And we're pleased to see he has since put his newfound fame to good use in various charitable projects.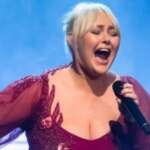 Bella Taylor Smith (9) openly spoke about her faith from the first time she graced our screens in her audition for The Voice. The Hillsong Church vocalist moved coach Guy Sebastian to tears with that one and impressed judges every time she sang.
While it was no surprise to anyone to see Bella go on to win the show, Christians were nonetheless delighted to hear her give credit to Jesus "most importantly" when she did.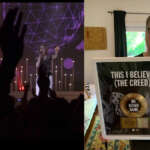 Industry recognition (10)
Worship music's most unlikely bedstudio-fellows – John Dickson and Hillsong – also won an award. This I believe, the song based on The Apostles Creed – suggested by Dickson and executed by Hillsong seven years ago – went gold in the US this year.
And it came with a giant framed award thing that Hillsong sent to Dickson.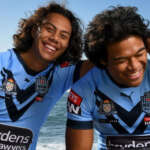 And footy games
The National Rugby League competition also produced some standout Christian stars who kept their faith front-and-centre of their success this year – and gee, these guys are likeable!
We're talking, of course, about Brian To'0 and Jerome Luai, whose fans include not only their club supporters (they play for the Penrith Panthers) but also anyone who supports the NSW State of Origin' Blues' team.
This year, these guys have sung, danced, joked, and leaped to great heights in post-try celebrations, prayed and even proposed (well, To'o has, anyway) on camera – and NRL fans have loved them for it. They're brilliant players, great role models, guys who put God and family first, so it has been a pleasure to see them win the Premiership (11) and Origin (12) competitions.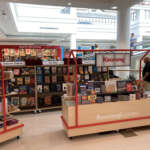 Koorong "popped up" in Westfield – and the story went gangbusters! (13)
Our Eternity team is the first to admit that "you just never know" which stories will be a hit with our readers. There are always surprises, and this year, it was when we reported pop-up Kooring stores in Miranda Fair in southern Sydney and Fountain Gate out beyond Dandenong in Eastern Melbourne.
We were delighted to see Eternity readers liking and sharing the article, making it one of the year's most-read. The new pop-up model is also adaptable for churches, conferences and schools, so we're hoping to see Koorong pop-up again in 2022.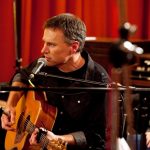 NSW's anti-slavery bill FINALLY got proclaimed. (14)
This story probably fits in the weird, wonderful and surprising category – which is unexpected in itself.
The Modern Slavery Act (NSW) was co-sponsored by former Premier Gladys Berejiklian and passed with bipartisan support. It made its way through the state's Upper and Lower Houses in June 2018 and received royal assent in December 2018. But for the next three years, the NSW government exploited a procedural loophole to effectively shelve the legislation by failing to "proclaim" the Act and bring it into force.
On November 19 this year – finally – after years and years of consistent campaigning* by anti-slavery campaigners – the bolstered Modern Slavery Amendment Act passed the NSW parliament. It will come into effect from January 1.
*Special shout out to Colin Buchanan, who released an anti-slavery song during the battle!  

Prophets became big news. (15)
2021 started with prophets from US churches still making news after their 2020 US election prophecies that Donald Trump would win did not come to pass. Some blamed demons, some repented and apologised, some then withdrew their apologies, some held their line and a "prophetic standards statement" was released to address false prophecy.
It was a lot.
A First Nations' Blessing video was released. (16)
Remember The Blessing Zoom choir videos that had us all in tears last year? Well, this year's wonderful surprise was a First Nations' version. We loved it, and according to Google Analytics, so did you!
Parliament was dotted with 'climate scarves'. (17)
Christian Social Justice movement Common Grace had its own "win" this year when several of Australia's federal MPs and senators wore climate scarves during question time in federal parliament.
It was the last joint sitting day before the United Nations climate conference in Glasgow, COP26. The handknitted, striped scarves tell the story of a warming planet – like a climate graph – as a show of their support for urgent climate action.
Driscoll and Mars Hill became news again. (18)
With a seemingly endless supply of fresh scandalous content available from the global Christian church, many did not expect to see controversial Mars Hill Church founder Mark Driscoll making headlines again. But thanks to our friends at Christianity Today, a new podcast on The Rise and Fall of Mars Hill had everyone dissecting Driscoll's meteoric rise and leadership.
Supporters of Driscoll in Australia even examined their role. And former Mars Hill elders raised concerns about Driscoll's role as senior pastor at a new church.
Facebook blocked us from reporting the news! (19)
Australians woke up to Facebook pages that looked very different on February 18 this year, as the social media giant blocked publishers and users from sharing news content on its platform.
A schoolyard stoush between the Australian government and Facebook over proposed laws that would force Facebook and Google to pay for news content was behind the news blackout, which lasted a few days.
During that time, we did everything we usually do except moderate Facebook comments and posted everything to Instagram and Twitter, sending one extra email to update our readers.
We also started a good old MySpace page (remember those?) which we promptly forgot about until right this minute.
And then it was over.
Christian online dating got a podcast! (20)
Yes, there are a lot of podcasts around these days, and yes, many of them are Christian podcasts. But are there a lot of Christian online dating podcasts? No. No, there are not.
Love Online is fresh and fun and genuinely practical and helpful. With the wonderful host Mel Wade and a team of helpers. Good stuff for breaking taboos, moving with the times and all that.

A bunch of old-school Christian songs got a shout-out in a new worship anthem. (21)
This year, Grammy-nominated and Billboard #1 worship teams from Elevation Worship and Maverick City Worship collaborated on a new album called Old Church Basement – a 13-song collection penned over several days spent together.
As great as all that sounds, it was the album's title track that got our Eternity team smiling. And specifically, the bridge, which delivers a worthy shout-out to a handful of history's greatest worship anthems that are paired with the song's central theme.
Great is thy faithfulness Lord unto me
It's just an old hallelujah with a new melody
And I once was blind but now I can see
It's just an old hallelujah with a new melody
Oh, over the mountains and the sea, your river runs with love for me
An old hallelujah with a new melody
Shout to the Lord all the earth, let us sing
It's just an old hallelujah with a new melody.
Email This Story
Why not send this to a friend?