Culture
film and tv
Christmas with The Chosen is streaming live now – and we're watching and live-blogging
Live blog
Post 11
Dallas is back, reinforcing the call-to-action of the show – people must know and we are the messengers now.
He lets us know that the brilliant monologues were written by Tyler Thompson, one of The Chosen's writers. Bravo, Tyler Thompson!
Dallas also lets viewers know that the Christmas Special merchandise (which we are supposed to only refer to as "gifts" because we are supposed to give them to people) will only be on sale until the end of today (in the US).
Earlier he explained that this special has been paid for from earnings made through TheChosenGifts.com as opposed to earnings made through the "pay it forward" option they have on the app. Go here if you are unsure what I am talking about.
Post 10
It's Judas! Or the actor who plays him. I find the sight of him quite confronting – just as I did in the final episode of Season 2 when we first met him.
Regardless, the actor Luke Dimyan, is doing an excellent job of wrapping up the story! "People must know! We are the Messengers now!" he tells us. The whole special "the Messengers" has referred to angels, but the message is clear. Now it's our turn.
And now we have an inspiring performance of 'Joy to the World' led by Phil Wickham to end!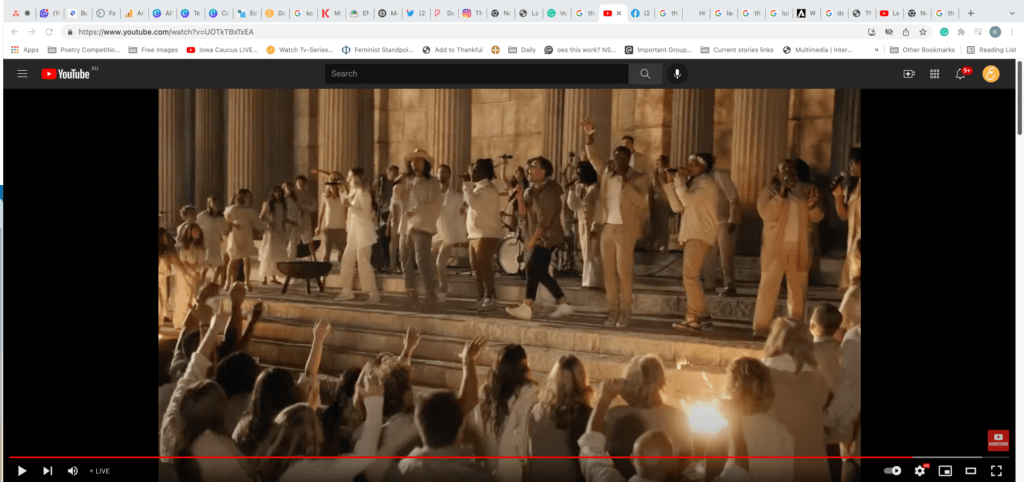 Post 9
Mary Magdalene is bringing Mary's account to Luke. We are again told that it is not a safe time for Christians.
Post 8
A lovely scene – Mary is holding Jesus and Joseph is asking her if they should keep the name Jesus when the prophet said he would be called Emmanuel. He tells her that they both need rest and they lay Jesus in a manger.
And now we've flashed forward to the elder Mary and Mary Magdalene. I'm not going to tell you what happens… but the writer has clearly taken time to meditate on scripture and ponder what recurring motives might mean. And it's something I have never thought about before!
Post 7
The Christmas story is unfolding quickly now. They've arrived in Jerusalem. They've found the inn full and made a place in the stable. Mary's waters have broken. Jesus' birth is coming. Mary says she is afraid and the expression makes her seem like a real human – this is the gift that The Chosen is to our generation at a time in history when so many people assume the Bible's stories are not real.
These scenes are interspersed with flash-forwards – an elderly Mary is talking to Mary Magdalene – both wonderful actors fans will know well from the series. Things are said (I'm trying not to give spoilers!) that make us know this is some time after Jesus' death.
The elder Mary is dictating what we know today as the Magnificat – a song of praise to God – so that Mary Magdalene can write it down and pass it on to Luke, the gospel writer. You can find the words in Luke 1:46-55.
The scene swells and we see Mary giving birth to Jesus. He's born!
Post 6
Ah! Now this is what The Chosen does best. I'm watching Mary and Joseph talking on route to Bethlehem. The biblical elements are there – the team does a good job of being true to the text. But, just as is the case with the series, the "gaps" of the biblical account are fleshed out.
Mary is telling Joseph that he is brave and good. She knows he could have ended their engagement when she conceived Jesus, but he didn't. She wants to make sure he hears her thank you. Joseph reassures her that God told him to.
In our recent interview with Dallas Jenkins he talked about this feature of The Chosen. It's controversial – some people consider it to be "adding to scripture" which the Bible instructs believers to avoid. But Jenkins continually says "The Chosen is not the Bible". He has a real sense of his own imperfection and doesn't want people watching the show as a substitute for reading the Bible.
Personally, I have found The Chosen has done the exact opposite, re-awakening my excitement to read the gospels again.
When we spoke to George Xanthis, who plays the apostle John, he expressed a similar thing. He grew up Greek Orthodox but hasn't really been practising his faith too observantly as an adult. The Chosen has sent him back to the Bible with curiosity and to consult with his childhood priest. He even told me about enjoying scenes when he was able to just listen to the dialogue because it shed new light on the Bible's stories.
Post 5
Oh my goodness – what a stunning song this is, interspersed with scenes from that show Mary's journey!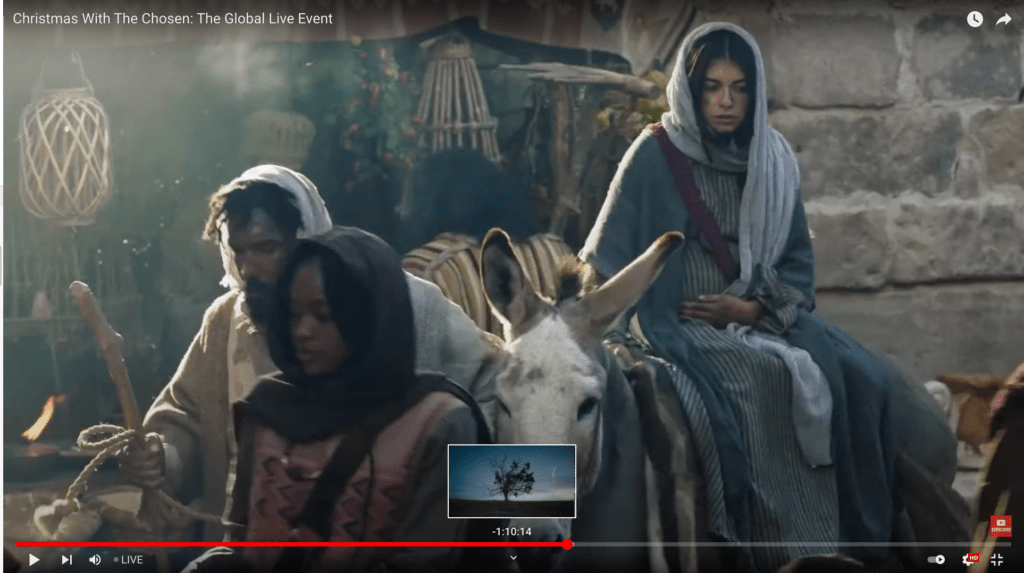 A quick google and I've found it so we can all listen again and again. It's Leanna Crawford – Breath of Heaven (Mary's Song). You're welcome.
Post 4
Thaddeus is back! I can't begin to live blog the amount of ground he's covering in terms of the biblical story. But, trust me, you want to watch this. Shout out to The Chosen's writing team – including creator Dallas Jenkins and his wife Amanda Jenkins.
Sidenote: There's always a really lovely strength to the way female characters are portrayed in The Chosen. Female characters are often portrayed with great insight and wisdom. I'm looking forward to Season Three when Eden (Simon Peter's wife) is going to have a bigger role – according to what Dallas recently told us. 
Post 3
We also need to talk about the music, because this special is filled with stunning performances and interviews with many of Christian music's most-loved artists perform stunning renditions of traditional Christmas carols. I'm talking: Phil Wickham, For King & Country, Brandon Lake, Maverick City, Cain, Matt Maher, Jordan Feliz and more.
Where are these performances filmed? It looks like it is on location in Israel but perhaps it's on the set of The Chosen. Will have to remember to google later!
Tell you what, you can stop wondering what the best 2021 Christmas carol playlist is. The soundtrack to this special is all you're going to need. (The version of old hymn 'How great thou art' is going to blow your mind).
Post 2
Can you believe our CMS crashed in the middle of this momentous event? Very frustrating. But here we are.
Right now we're watching actress Lara Silva, who plays Eden (Simon Peter's wife) in The Chosen, talk us through the concept of shalom and God's name "Jehovah Shalom".
"The world began in shalom"… "and we know it shall end in shalom", she says. This script is beautifully written and chockablock with rich theological concepts. We need this Prince of Peace, she tells us.
This is the second monologue in the special so far. First we had Giavani Cairo, who plays Thaddeus, speaking through another of God's names – Adonai El Roi, the God who sees us. That was also a solid piece of theological work, beginning with the story of Hagar. 
The four hundred years of silence has been mentioned a few times so far – interesting. We published a really great piece on the subject by George Athas recently that is worth a read!
Post 1
After smashing box-office records in US theatres, Christmas with the Chosen: The Messengers is finally available for fans of the TV series across the world.
Streaming live via Youtube and on The Chosen's Facebook page, we're tuned in and watching from Eternity's offices in Sydney and will be bringing you updates. Watch along with us and let us know what you're thinking of the special episode that has US fans so excited.
Email This Story
Why not send this to a friend?