Hillsong Teaching Pastor Robert Fergusson's most widely known work does not have his name on it. Every Hillsong song passes through the hands of Robert and his wife Amanda for a sign off.
I asked him if that was a hard job. "I wouldn't say it was hard so much as delicate," he responds. "We are affectionately called "the lyric police" by the songwriters. And if you think about it, writing a song is a very personal and onerous experience.
"So, for someone to be given permission to change it, challenge it, requires a measure of delicacy. We've got some amazing songwriters who are humble enough to submit their songs and say, 'are they okay?' And I just see that as an immense privilege, to talk to them about what I think is good theology. What I think is clear."
He says they say "no" quite a lot.
"We are looking for something that, well, we can defend from the Bible. Other people may not like it. And we say to people, you don't have to sing it, but if we can defend it from the Bible, then we let it through.
"But we're also looking for clarity. So sometimes we just feel that a line is not clear, and it needs to be clarified. So, we will question lines and say, this could be made clearer, or we'll allow this, but you will get some criticism for it.
"So, we do a lot of to and fro, backwards and forwards. Very rarely do we just say, 'that's brilliant.'"
But Fergusson's main job is preaching. How is the task of getting people to trust the Bible going? Has a more hostile world and postmodernism made it harder? "Well, often the proof of the pudding is in the eating. The Bible says 'taste and see that the Lord is good.' And so how do you measure the Bible's impact on people's lives? Well, ultimately you measure it by changed lives."
"Declare the truth, declare the Bible, declare Jesus Christ, declare our faith, and he will change lives and then their stories will speak for themselves." – Robert Fergusson
"There is an old adage that says a man with experience is never at the mercy of a man with an argument, so once a life has been changed by the Bible, it doesn't really matter how many critics or cynics appear. They say, 'Well, my life has been changed,' but you're absolutely right. We live in a very truth-challenging world.
"The postmodern generation has, for the most part, abandoned the idea of absolute truth. But my feeling is to declare the truth, declare the Bible, declare Jesus Christ, declare our faith, and he will change lives and then their stories will speak for themselves."
Fergusson then observes some of the different changed-life stories he has witnessed across the Christian spectrum: "If you just shut your eyes and are in a prayer meeting, and there are ten people praying, you can almost certainly work out which denomination they come from."
Prompted to pick out a word to describe Hillsong, he picks "passion".
"We're passionate about our faith, passionate about love, we're passionate about life, and one of our mottos is: we love God, we love people, and we love life."
Searching around, I offer him another word to describe his church – one that Fergusson accepts – "unapologetic".
"I think when it comes to the communication of truths – and that's what my book Are You Getting This? is all about – I have learned to be unapologetic about my faith in Christ and unapologetic about my faith in the Bible. That's part and parcel of what, not just our church, but hopefully most churches are."
"There was no gap between Jesus life and his message. He was a man of integrity." – Robert Fergusson
So, to the book, in which Fergusson reveals he owns a rather ancient chewed pencil he's kept it from his school days. It's a reminder of when he did not "get" what a computer teacher was trying to tell the class. Fergusson just did not get it. He remembers the pain and pencil chewing frustration of that, so he's written Are You Getting It? as a book about making sure you actually communicate.
He tells stories. It is his way of preaching – mostly. Which is to say he has a narrative arc to his talks, with all the devices of a good story – a hero, a quest, and the "universal plot" of home, discovery and return. In fact, Fergusson's whole book is set out like a story – with 20 insights that he assures us can be read in any order.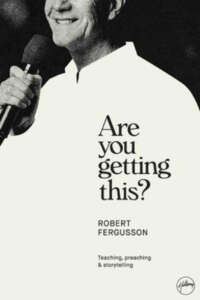 The first chapter, "Passing On", convinces me. It's about passing on a story – and one of the many he tells is this: "When I asked a Rabbi how he implemented this idea of passing on covenant values to another generation, he showed me a mezuzah. A mezuzah, which means 'doorpost', is a small receptacle which every Jewish household is required to affix to the doorposts of their homes. This mezuzah contains a scroll, and on this scroll two passages from Deuteronomy are inscribed. These are the passages that refer to the passing on of their creed and covenant values."
"The Rabbi told me that he had put Disney-inspired mezuzahs on his children's bedroom doorposts and used them as height markers. Each time his children grew, he would move the mezuzah. He would use this as an opportunity to tell his children the story of Israel."
It seems to this reader that the organisation Fergusson has been part of shaping for decades – Hillsong – has been good at passing on its story.
Which story? As the Are You Getting This? book goes around its own storytelling arc, you come across nuggets like this advice for public speakers that is pragmatic and deep at the same time: "You cannot share a lesson you haven't learned or a revelation you haven't received. You cannot promote an idea you are neither passionate about nor practice. Jesus Christ talked about what He knew and what He lived. There was no gap between His life and His message. He was a man of integrity."
Talking to me, Fergusson is like many teachers – from many denominations – who have taught the Bible for decades. He exudes it. And he wants to teach you how to preach it authentically – in a way that means the audience "gets it".
"If it doesn't have Jesus in the centre, it's not a sermon." – Robert Fergusson
Asked if the "traditional sermon" is shape shifting into something else – like a good communicator, Fergusson answers a slightly different (and better) question.
"When I'm teaching on preaching, which I do each year through our students, I compare preaching to making a cake and I go down the front row of the students and I ask people, 'what is your favourite cake?' Fergusson tells Eternity.
"One will say a carrot cake, one will say a chocolate cake, one will say some other national dish. And I say, there's nothing wrong with having those favourites, but what makes a cake? A cake is not whether you like it, or whether it looks good or whether your nation accepts it as the best cake.
"What makes it a cake are the ingredients and there are a number of ingredients that make a good cake – and a number of ingredients that make a good sermon. If it doesn't have the Bible in it, it's not a sermon. If it doesn't have Jesus in the centre, it's not a sermon. If it's not empowered by the Holy Spirit, it's not a sermon. If it's not personal, it's not a sermon"
"So, these are foundational ingredients that you would find in Acts 2, or Acts 10, or Acts 7, the sermons in the Bible. But the reality is one cake is going to look different from another. So, I'm very cautious [about saying] that is the right type of cake.
"It's better to say, "what's in it?'."
Are You Getting It? is available atKoorong