World
Bible
Good news: 81 per cent of world population have Bible in their language
Bad news: there are 3773 languages to go
Elomwe, Txitopi, Turkmen and Zottung Chin are languages that had their first ever Bible translations completed in 2017. The first two are spoken in Mozambique, and the others in Turkmenistan and Myanmar.
Seven languages, spoken by more than 13 million people, received the full Bible in their own language for the first time. Two Australian Aboriginal groups got expanded but not yet complete translations: the Eastern and Central Arrente people (centred on Alice Springs) and the Alyawarr (northeast of Alice).
Because languages change over time, revised translations are continually produced. In 2017, 30 new translations in languages spoken by 566 million people were completed.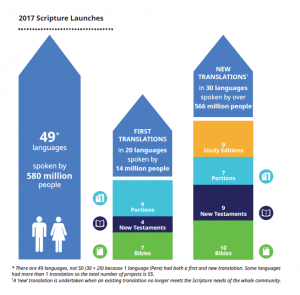 Fuel your faith every Friday with our weekly newsletter
Bible translations stats reveal an encouraging fact – and a a challenging one.
The encouraging stat is that 5.4 billion of the 7.6 billion people on earth have the whole Bible in their language, with 631 million more having the New Testament plus 406 million with portions of Scripture (which normally mean the gospels at least). That leaves a gap of 209 million people with none.
The challenging stat is that those 209 million people speak 3773 languages.
To look at Bible translation from another angle: Out of the 7097 languages on Earth, 674 have full bibles, 1515 have New Testaments and 1135 have portions of Scripture.
This reflects the fact that the larger language groups have the Bible. But some quite large groups – such as the seven million Turkmen speakers and 1,630,000 Elomwe speakers – received their Bibles only last year.
The smaller language groups yet to receive the whole Bible in their language include all the Aboriginal languages of Australia (The Kriol Bible of northern Australia, competed in 2007, is in a Creole language – a mix of tongues, sometimes called a pidgin, that has become a full language). The translation task continues.
There's an increasing focus on special groups, and this is reflected in the latest stats. Sign language is a special focus for Bible translators with 26 sign languages actively being translated. Only 10 per cent of the more than 400 unique sign languages have any Scripture. Auslan, our local language for Australia, is one of the best provided for.
Despite new technologies, printed Braille remains popular among blind people. In 2017, two languages received their first braille portions – Luganda (Uganda) and Khasi – and there are projects running in 32 countries.
Here are some ways you can help with current Bible Society Australia translation projects:
Mongolia – Supporting Mongolian translation of the Bible that is in a language easy to understand.
Vietnam – Translation of the Bible into minority languages in Vietnam.
Indochina –  Four ethnic minorities in Indochina who are eagerly awaiting full Bibles.
Australian Indigenous Pitjantjatjara – The Pitjantjatjara people want the whole Bible. Let's help them translate it.
Australia AUSLAN –  The latest enlarged version of the Auslan Bible is set to be released as an app and be available for download.
Click the links in the story to donate to Bible translation