Coronavirus has closed most of Americas churches. There's a small number of holdout pastors who protest the lockdown. But a much larger number – a quarter of  US adults overall (24 per cent) – say their faith has become stronger because of the coronavirus pandemic.
A new Pew Research Center survey also reveals just 2 per cent say their faith has become weaker. Out of the same survey, Pew Research found the vast majority of US churchgoers report their congregations have closed regular worship services to the public.
Two groups in particular say their faith has been strengthened: members of historically black Protestant churches in America, and those who describe themselves as very religious.
On the other hand a larger number say their faith hasn't changed much (47 per cent) or that the question isn't applicable because they were not religious to begin with (26 per cent), according to Pew.
This result reflects the view of Christians more than other religions. Pew has a good track record in analysing the views of particular religious groups and the tribes within them.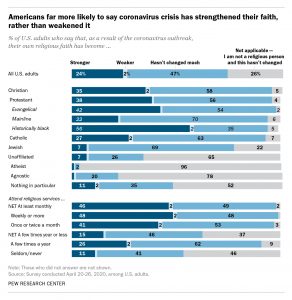 "Opinions on this question vary based on respondents' religious affiliation and how religious they are," says a statement accompanying the research.
"Christians are more likely than other religious groups in this analysis to say their faith has grown stronger as a result of the pandemic, a feeling that is reported by 56 per cent of Protestants in the historically black tradition, as well as by four-in-ten evangelicals (42 per cent) and roughly one-quarter of Catholics (27 per cent) and mainline Protestants (22 per cent)."
"Mainline Protestants" in the US refers to the more progressive denominations which, in Australia, might best equate to the Uniting Church in Australia (UCA), or the progressive Anglicans such as the Brisbane and Perth dioceses (regions).
There is a possible irony in that those more likely to say their faith has been strengthened in the coronavirus era are those who attend church more often, at a time when churches are closed.
This might be seen as both a testimony to personal faith and the efforts of their churches which have moved online.
The coronavirus has affected black Americans more than others according to reports – such as this New Yorker piece on "the Black Plague". In a nation with a tragic death toll, Black Americans are more likely to die than any other group.
So it inspires some reflection when we note that black American Christians are also the group most likely to say their faith has been strengthened in the coronavirus time.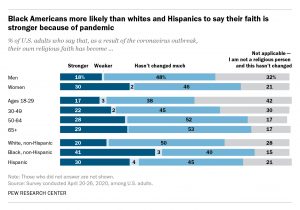 One similarity with Australia is that US churches have overwhelmingly moved online. "More than eight-in-ten churchgoing Christians say their primary church offers streaming or recorded services online or on TV, including roughly nine-in-ten evangelical (92 per cent) and mainline Protestants (86 per cent) who say this."
"Most Catholics (79 per cent) and Protestants in the historically black tradition (73 per cent) also say their churches are making religious services available remotely."