A live, theatre-in-the-round performance of the Gospel of Mark that has been making waves in Europe will have its first performance in Australia next month.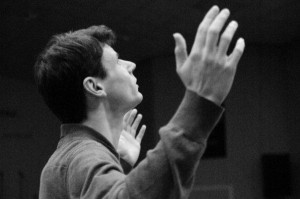 In September, Village Church Annandale, in Sydney's inner west will present The Mark Drama, a 90-minute performance that originated in Austria as the brainchild of an English missionary.
The production differs from traditional theatre in that there is no script. Instead, the 15 actors in each production are required to memorise the structure of Mark's Gospel by using The Mark Experiment, which divides the Gospel into six units.
Once memorised, the actors rehearse through "guided improvisation". Andrew Page, the creator of The Mark Drama told Eternity that "while rehearsing the team improvise on the basis of what is in the Gospel account of each incident. The director's job is to make sure that what they say is faithful to what Mark has written and to tweak things as necessary".
One participant from a UK production said, "you don't have set lines to learn, you can just ad lib it, as long as you know what is meant to be happening in that event. It's very, very natural, and you're always bouncing off other people".
"Actually acting out the gospel suddenly makes you realise just how much Jesus has done for [me] and how much he's completely changed my life".
Dominic Steele, Minister at Village Church Annandale told Eternity his goal in putting on The Mark Drama was twofold: "that members of the acting team get to know Jesus better, and that the friends and family of the members get to know Jesus better".
Andrew Page agrees, "I hope that people who are not yet Christians will be blown away by Jesus and will want to know more, get their questions answered, and find out what it means to become a follower of Jesus".
Steele is hoping that a theatre performance will prove to be an effective evangelistic tool. He said, "every ministry would be wise to have a suite of evangelistic methods. This is one extra method we can add to our portfolio".
Andrew Page will be in Australia to run the three rehearsals and direct the inaugural performance.
The rehearsals will also be a forum for training a group of potential directors, with the hope that The Mark Drama will be taken and used in other churches and ministries in Australia.
Producer of the first Mark Drama in Annandale, Will Mitchell says he "hopes that lots of people will come and watch and listen and hear and be inspired to take it back to their university campus or church".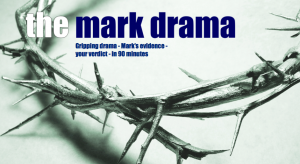 If you are interested in running The Mark Drama at your church or in your university group, Will Mitchell would love to hear from you. You can contact him on [email protected] or 0408 630 855.
Evening productions of The Mark Drama at Village Church Annandale are on 20th and 21st of September. Tickets can be purchased here.
Email This Story
Why not send this to a friend?