As sure to divide as Jesus himself, Son Of God does well introducing unchurched westerners to an unknown saviour. But Christians would do well to be aware of the business behind Biblical Hollywood.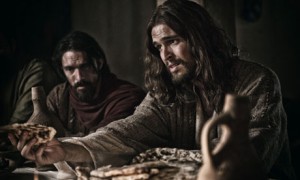 Son Of God is the creation of Mark Burnett of Survivor and The Apprentice fame. However he and his wife Roma Downey are also the Christians behind the celebrated television series The Bible. In fact the film actually recycles a large amount of material shot for that show. There aren't too many surprises in the plot either with the story following familiar territory as supplied by the Gospels, beginning with Jesus humble birth and climaxing not with his death – a familiar Hollywood mistake – but his resurrection. It aims to introduce the passionate man behind the message with Diogo Morgado presenting a quietly intense messiah who is well aware of his mission. Take Jesus' famous miraculous catch and the calling of Peter for example:
Peter: How did this happen?
Jesus: Come with me.
Peter: What are we going to do?
Jesus: Change the world…
You won't find chapter and verse for this sort of quote though, and that's to be expected. Clearly the Bible wasn't written for the big screen and some creative license has to be employed to create the pictures that are so important to generating the film's emotional impact. In so far as these additions are true to the historical context and reflect the intention of the Author, I'm not overly worried. The miraculous catch above is actually beautifully realized though details like where Jesus was standing and the number of people present are altered for the sake of an effect that still leaves the authority and power of our Saviour intact.
However the reactions to Son Of God overseas have been as varied as the positions on a compass. Google will give you access to a range of vitriolic responses from people who have a very … distinct definition of Christianity. These critics, I think, are largely unaware of the benefit of having Jesus' life displayed at all and desire an absolute accuracy or absolute silence. I will happily admit its shortcomings, as well as the fact that there are some things – the crucial payment of for our sins that takes place on the cross – which only the Word of God can clearly convey. Yet a film like this one is not supposed to be an alternative to the Bible. It's a conversation starter, not the final word. In a month in which Australians will be encouraged to spend their money considering leading men like Tom Cruise (Edge Of Tomorrow) and Tarzan, I would be happy to introduce them to history's greatest hero, who they could readily find out more about in the Bible. If I have to clean up details later, so be it. At least I won't have to explain why Jesus came, nor why people still find him so compelling.
But in so doing, keep the business side of the equation in mind and an eye out for the more blatant counterfeits to the good news. There will be many attempts this year to turn God's message into a best seller of another kind…
Son Of God certainly represents a financial success story for film distributors with its opening weekend in the United States netting close to $28 million for a story that cost 23 million to tell. It's gone on to net $72 million world-wide, even before its release in Australia, demonstrating once again that Christian stories continue to have traction with cinemagoers – a fact Hollywood seems well aware of in 2014. This year will see the release of six explicitly Christian stories, ranging from Darren Aronofsky's Noah through to Ridley Scott's Exodus, starring Christian Bale as an unlikely Moses and a rumoured Pontius Pilate starring Brad Pitt.
The Bible's attraction for present producers isn't just its epic storylines but the presumption they come with in-built audiences. After all, the faith-based market delivered The Passion Of The Christ $604 million worldwide. Likewise The Lion, the Witch and the Wardrobe earned $739 million. Figures like these are why Paramount went to such extreme measures to try and please religious viewers, testing five versions of Noah before its release including one that began with a montage of religious imagery and finished with a Christian rock song. But none of these takes actually delivered the approval Paramount was looking for and they eventually opted to return to Aronofsky's cut. I suspect Exodus and Pontius Pilate have similar fates in store because Jesus' followers have been well warned about hypocrisy.
However you don't have to have big marketing budgets or critical acclaim to make a memorable Christian film; you just have to take Christ seriously. Burnett and Downey went on an American roadtrip, approaching pastors personally to convey their passion for their Gospel story. As a result the low budget Son Of God managed to earn $4 million worth of pre-sale tickets. The same story is likely to be repeated in Australia, albeit on a smaller scale, thanks to the number of events being organized around screenings by culture-minded churches.
Spectacular special effects are a bonus but Christian audiences aren't interested in Aronofsky's promise to 'shake up' their expectations. They want themselves and their friends to be drawn closer to the God and Saviour they already know. If Hollywood doesn't know the hero of the Bible, they're unlikely to convince that many to buy tickets, even if their stories are of biblical proportions.
More