"Hillsong is the dominion voting machines of the Aussie left." Michael Bird, academic dean at Ridley Melbourne (an Anglican college) has it right. Hillsong is the current target for lefties who like conspiracy theories, just like the false stories about the Dominion company that makes voting machines fuelled the outrage of Trumpists.
Jono, search "Hillsong" on Twitter and read the lies, hate, and weird-ass conspiracy theories about Hillsong and COVID and secretly taking over the Australian Govt. Hillsong is the Dominion voting machines of the Aussie left.

— Michael F. Bird (@mbird12) April 3, 2021
Theres's been several false stories told about Hillsong largely in the wake of the Carl Lenz saga. Hillsong appears to be the church of the moment for false stories.
Hillsong taking over the Australian government. False. This one started with a list of government ministers who are said to be Christian – and the obscure news site that published it got that part almost right.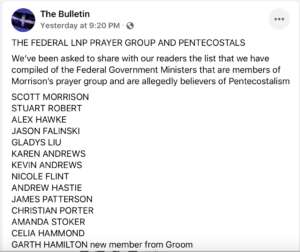 And it quickly became this: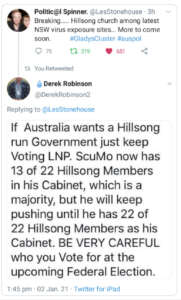 Eternity researched the religious background of those politicians here. Of the "13", we have no regular Hillsong attender and two who attend other Pentecostal churches.
And here's a pic from Twitter claiming that Senator Amanda Stoker (an Anglican) and Andrew Hastie (Presbyterian/FIEC) are Hillsongers. Amusingly, the original image is nicked from Eternity, then the Hillsong logo is added.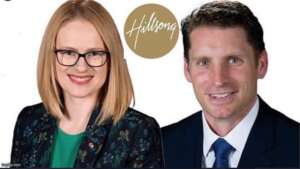 The COVID myth. This one is proof that nothing dies on the internet. The allegation is that Minister for International Development and the Pacific Alex Hawke's in-laws were on the Ruby Princess cruise ship – and that is the reason the passengers on that ill-fated voyage to New Zealand were "fast-tracked" and allowed to disembark in Sydney. And that somehow that's connected to the Hillsong Colour conference last year. All false. But still alive on Twitter – the tweet below is fresh. Eternity debunked it – or actually Samatha Maiden did – here.
https://twitter.com/JusticeOzzie/status/1379218956515299331
Michael Guglielmucci. The news that Guglielmucci – the centre of a sad cancer-faking scandal, which led his song "Healer" to be popular in Christian music circles – is starting a new church, led the New York Post and Vanity Fair to claim he was somehow a Hillsong pastor (untrue) and a member of the Hillsong United singing group (untrue). He was a guest artist on one Hillsong United Album for one song: "Healer". The album was recorded live at Acer Arena. Guglielmucci is a son of a prominent Adelaide family of pentecostal pastors, Danny and wife Sharonne, who founded Edge church. The family saw tragedy when Michael's  brother Kris was killed by lightning in 2016. Michael Guglielmucci has registered Lighthouse City Mission Incorporated with the Australian Charities and Not-for-profits Commission – he is setting up the church in Port Adelaide. The new church is unrelated to Hillsong.
Yet more false headlines and articles from the New York Post and Vanity Fair. Michael Guglielmucci was NEVER a pastor at Hillsong and was NEVER part of Hillsong United.

— Brian Houston (@BrianCHouston) April 3, 2021
They kicked him out for immorality. One reason Hillsong gets mentions in the press is that they have been known to kick pastors out. Decades before Carl Lentz, the best known pastor kicked out by Hillsong was Pat Mesiti. His story has resurfaced several times in the media, often when he starts a new venture. Mesiti has been engaged in financial coaching ventures, a domestic violence case involving his former wife and has recently established Reborn ministries, a church on Queensland's Sunshine Coast.
Julia Baird accused of being a Hillsonger. Having taken over the government, at least according to Twitter, the ABC is next.
https://twitter.com/JusticeOzzie/status/1378868320179347457
Email This Story
Why not send this to a friend?