Well-known pastor John Piper made waves by declaring neither presidential candidate is someone he can vote for – Trump because of his character, Biden because of his party's policies.
He only made waves, because he was pushing back against the large number of Evangelical and Catholic voters who will vote Trump, largely motivated by the abortion issue. Such a prominent conservative US pastor rejecting Trump was news – although close Piper watchers knew he has always believed Trump was unfit for office.
The Christian reaction to Trump is more complicated than you might think. There have been spectacular changes of heart and vehement disagreements. Here's a guide to what has struck Eternity.
Repentant 'never Trumpers'. Albert Mohler, who runs the largest pastor training college in the world – the Southern Baptist Theological Seminary – sat out the 2016 election. "The 2016 presidential election presents conservative Christians with an excruciating decision that is testing our character," he wrote in a widely distributed opinion column. He asked "How can 'family values voters' support a man who has, among other things, stated openly that no man's wife was safe with him in the room? A casino titan who posed for the cover of Playboy magazine? A man who boasted that he did not repent of his (well-documented) sins and would not?"
Fuel your faith every Friday with our weekly newsletter
But in 2020, Mohler has already voted for Trump. Referring to his earlier vote, he writes in an essay endorsing Trump in 2020: "Having argued loudly for the resignation of President Bill Clinton on national television many times over in the wake of the Monica Lewinsky affair, I felt that I could not vote for Donald Trump without hypocrisy. I even went so far as to say that if I voted for Donald Trump I would have to apologise to Bill Clinton.
"Well, I am voting for Donald Trump in 2020 and I make no apology to Bill Clinton. I do apologise, but my apology is for making a dumb statement that did not stand the test of time."
Mohler has told The New Yorker the reason he has warmed to Trump. "He actually did what he said he'd do," Albert Mohler told The New Yorker. "It's the oddest thing."
Conservative radio host Erick Erickson called Trump a "fascist" and banned him from the "RedState" conservative conference he used to run in 2016. But now?
He's been impressed by Trump's anti-abortion actions. "When I see him in contrast to how the Democrats are running – particularly being a pro-life conservative, seeing the abortion laws Democrats are pushing and whatnot – I feel kind of stuck," he tells NPR. "And so I'll wind up voting for the president in 2020."
The Piper pushback. Some of it was extreme. Here's a collection if you want, accusing Piper of supporting Satan (Biden), being manipulative, supporting a fondler of little girls (that's a bit of QAnon), and of being salt that has lost its flavour.
Wayne Grudem, who led the ESV translation team, wrote a respectful response. He argues that for Evangelicals not to vote would give the victory to Biden. He agrees with Piper that character is important but writes "a presidential election is simply choosing the leaders of our government. In such a situation, the primary purpose is to decide what kind of government we will have, and in that situation policies and laws are not the only consideration, but they are the most important consideration."
In The American Spectator, Mark Devine accuses Piper of a "false moral equivalence" between "between Trump's deadly character and Biden's deadly pro-abortion stance." Piper has not gone after Biden, Devine charges. "Piper tempts us to strain out the gnat of Trump's follies while swallowing the camel of Biden's decades of public dishonesty and corruption." (Note: Eternity is not endorsing these views, but reporting that these charges have been made.)
Trump is asked if he is an evangelical
As part of an interview with Religion News Service published on Monday, President Trump was asked: "Given the support you have received from evangelical Christians in particular, do you consider yourself to be an evangelical Christian and, why or why not?"
Trump responded: "I grew up going to church with my family in New York City. My parents taught me the importance of faith and prayer from a young age. Though I was confirmed at a Presbyterian church as a child, I now consider myself to be a non-denominational Christian."
"Melania and I have gotten to visit some amazing churches and meet with great faith leaders from around the world. During the unprecedented COVID-19 outbreak, I tuned into several virtual church services and know that millions of Americans did the same. Thankfully, many great churches are now back open and meeting in person. In fact, just this past weekend, I visited the International Church of Las Vegas and enjoyed a beautiful service."
Eternity's interpretation: In the US, "non-denominational Christian" is pretty close to saying "yes" to the evangelical question, given that "non-denominational" is what many evangelical or pentecostal megachurches call themselves. International Church of Las Vegas does just that.
Piper and Abortion
Perhaps Pipers's most controversial point, apart from his "don't vote for either of them" stance, was his declaration that Trump's character would limit his effectiveness against abortion. David French, late of National Review and fiercely anti-abortion, amplified that point.
"Trump cannot end abortion. Even if SCOTUS overturns Roe, it will not overturn abortion. That will require a culture that emphasises love, selfless sacrifice, and mutual support. If a 'pro-life' president uses his immense power to flaunt 'boastfulness, vulgarity, immorality, and factiousness' even as he purports to modestly change policy, he is ultimately destructive to the culture Christians seek to create."
"Piper puts it more bluntly: 'It is naive to think that a man can be effectively pro-life and manifest consistently the character traits that lead to death —temporal and eternal.'"
The polls:
The racial split in the US is reflected in Pew Research's polling numbers. "78 per cent of White evangelicals intend to cast ballots for Trump, compared with 83 per cent who said this in August."
"Biden, meanwhile, is currently favoured by 90 per cent of Black Protestant registered voters, 70 per cent of Jews and 67 per cent of Hispanic Catholics."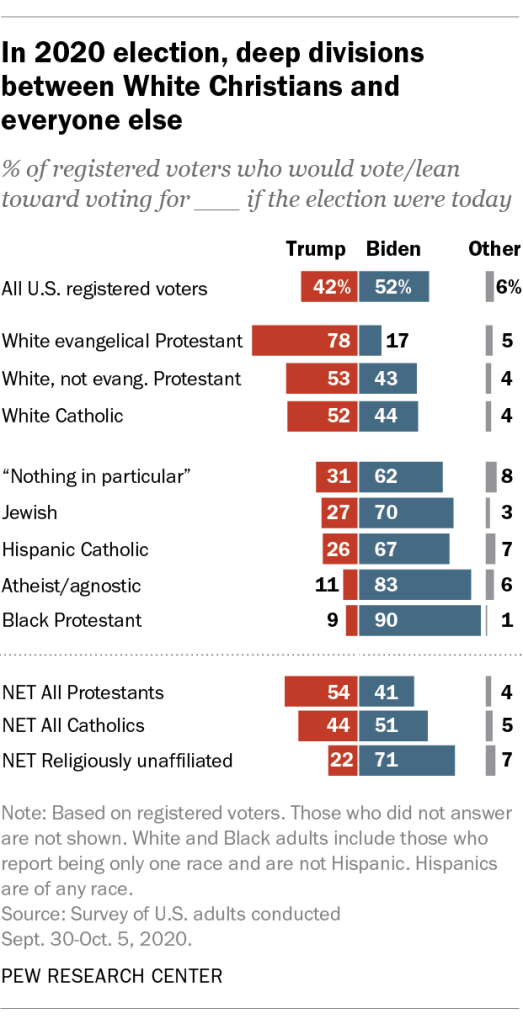 Email This Story
Why not send this to a friend?